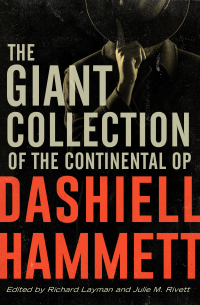 Title: The Giant Collection of the Continental Op
Author: Dashiell Hammett
Genre: Hardboiled Detective Fiction
Pages: 769
Rating: 4.5 of 5
I have a weakness for hardboiled detective stories from the 1920's-50's, and Dashiell Hammett's nameless Operative of the Continental Detective Agency is the character that got me hooked. He's not as well knows as Hammett's womanizing Sam Spade of The Maltese Falcon or pleasantly inebriated Nick Charles of The Thin Man, but I prefer the tubby little tough guy to either of them. Because he is based on Hammett's own time as a Pinkerton operative, he's a bit more believable, and his appearance in 20+ stories and two novels allows for some character development (even if it's driven largely by meeting expectations of three or four different editors over his career) .
There's nothing fancy about the Continental Op. He stubbornly plows through the evidence, stepping on toes and poking at suspects to see what happens (usually something violent). Over the years he becomes increasingly cynical and violent, getting the job done even if it isn't tied up in a nice neat bow.
As with any pulp fiction, you have to be willing to look past some product-of-its-era prejudices, but it's not as bad as most. The Op's thoroughly unromantic nature eliminates most of the rapey (or otherwise troubling) womanizing that you see in some older pulp (though unfortunate racial caricatures persist in some stories).
Also, as with any pulp fiction, you probably don't want to read through all of these too close together or they start sounding too much the same. Hammett is better than the average hardboiled writer (Raymond Chandler is probably the only one in the same league), but there's only so much you can do with characters and plot when you write for Black Mask. This particular book provides a nice chronologically arranged collection of all the Continental Op short stories: perfect to pick up and read a story or two when you need some escapism.