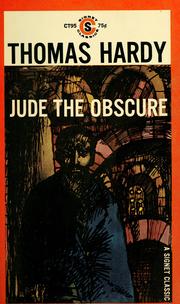 Title: Jude the Obscure
Author: Thomas Hardy
Genre: Classic Fiction
Pages: 414
Rating: 3.5
I read this book for the Classic Tragedy category at the Back to the Classics Challenge. I didn't know much about it going in other than that it was supposed to be horribly depressing and scandalously frank in its discussion of sexuality for a Victorian Era book…and that's exactly what it was. Hardy attacks the snobbery of academia and the institution of marriage. I'm not sure whether he is entirely against the idea of marriage as a lifelong commitment or just the way that he sees it being manipulated and abused.
Our protagonist, Jude, spends his whole life discontented and obsessed. His life swirls around the effects of a hasty marriage to a pig farmer's daughter (Arabella), inability to progress in his scholarly pursuits (due largely to the elitist nature of Christminster / Oxford), and a romantic infatuation with his brilliantly unconventional, narcissistic cousin (Sue). Jude wallows in misery as he repeatedly chucks aside anything good he has going for him in order to pursue immediate lusts or sulk over his dissatisfaction. Between Jude's obsessive discontent, Arabella's manipulations, and Sue's love of being loved (with minimal reciprocation), ugliness and tragedy abound.
Overall, the book is pretty horrifying, but I have to give it credit for a certain kind of realism. As a pastor who does a fair amount of counseling, most of the life-ruining decisions made by the people in this book are sadly familiar. Hardy and I would probably analyze the problems and moral course of action differently in some cases, but the man certainly understood the dark, selfish side of human nature.