I'm still on vacation with the brain only half-engaged, so here are a few more mini-reviews. Most of these are books that I read earlier this year and didn't have the leisure or inclination to review at the time.
Title: The Inimitable Jeeves
Author: P. G. Wodehouse
Genre: Classic Humor
Pages: 240
Rating: 5 of 5
I love the Jeeves and Wooster books, and this one is no exception. The adventures of good-hearted-but-a-bit-dim Bertie Wooster who navigates the "trials" of post WWI English high society with the help of Jeeves, his genius valet, always provide a chuckle. This book (the second in the series) collects a number of loosely connected short stories which mostly feature Bertie trying to help the frequently-love-smitten "Bingo" Little (and then having to be extricated from difficulty by Jeeves).
Title: Dracula
Author: Bram Stoker
Genre: Classic Gothic/Horror
Pages: 416
Rating: 4 of 5
This book that originally popularized the "sexy vampire"  doesn't have as much to offer thematically as the equally classic Frankenstein, but I found it creepier and a lot more fun to read. Stoker was definitely sexist (and shows flashes of other common prejudices of his day), and there's the usual Gothic ramblings and melodrama, but if you can just roll your eyes at the worst of it, it's well worth a read.
Title: The Thin Man
Author: Dashiell Hammett
Genre: Hardboiled Detective
Pages: 201
Rating: 4.5 of 5
If Oscar Wilde had written  hardboiled/noir fiction this is how it would have turned out. The interplay between perpetually-tipsy ex-detective Nick Charles and his young wife, Norah is reminiscent of Wilde's characters who say "wicked" things just to get a rise out of people…all this while solving the usual Hammett-style case. I didn't care for this the first time I read it because I didn't catch Nick's slightly tongue-in-cheek tone, but after seeing William Powell's portrayal of Nick Charles in the 1934 Thin Man movie, it made more sense and I really enjoyed it.
Title: Poems of Heaven & Hell from Ancient Mesopotamia
Translator: N. K. Sandars
Genre: Ancient Religious/Narrative Poetry
Pages: 192
Rating: 4 of 5
A large part of the page count for this book is commentary by the translator, much of which is helpful even if it does necessarily include a bit of speculation. For me, the poetry itself (the longest one is the Enuma Elish / Babylonian creation account) provides interesting background for what various people in the Old Testament would have believed (e.g. Abraham and his family when they lived in "Ur of the Chaldees").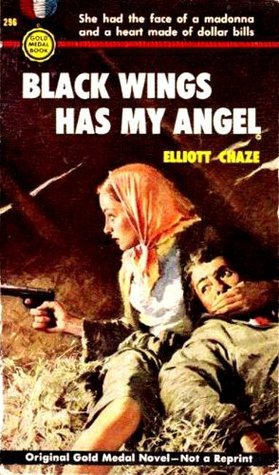 Title: Black Wings Has My Angel
Author: Eliot Chaze
Genre: Crime Noir
Pages: 154
Rating: 3.5 of 5
This is a fairly typical crime-spiral-of-self-destruction novel on the same order as The Postman Always Rings Twice or Thieves Like Us (or the real life Bonnie and Clyde). There's not a lot to say about it other than it's a competently executed example of the genre.
Title: Ten Days in a Madhouse
Author: Nellie Bly
Genre: Exposé
Pages: 110
Rating: 4 of 5
In the late 19th century, journalist Nellie Bly deliberately got herself committed to the Women's Lunatic Asylum on Blackwell Island. Her report of the callous treatment of the women there (many of whom she believed to be perfectly sane) is deeply disturbing. Apparently the publication of her observations resulted in NYC earmarking an additional $1 million for helping these women, but I don't know if there were any lasting reforms.
Title: The Great God Pan
Author: Arthur Machen
Genre: Horror/Weird
Pages: 84
Rating: 3.5 of 5
This story deeply influenced other horror writers, especially in the field of cosmic horror (that "something incomprehensible/evil/wholly other is 'out there'" themed sub-genre). As with some genre-defining stories I didn't find it as enjoyable as the works of authors who refined the formula (e.g. H. P. Lovecraft), but it was still interesting, if rather predictable and verbose.
Title: Othello
Author: William Shakespeare
Genre: Play
Pages: 180 (about half was commentary)
Rating: 4 of 5
I wasn't going to review this because I kind of did so when I reviewed New Boy, but for the sake of being able to say I reviewed everything I read this year I'll include it. A lot of people see this as being primarily about race since Othello is a Moor, but it is much more about jealousy and ambition (fueled only partly by racism). The despicable, manipulative Iago just might be one of the nastiest villains in Shakespeare. A great tragedy (though I prefer Hamlet and "The Scottish Play").
And with that I've reviewed all the books I have read so far this year (63 of them)!